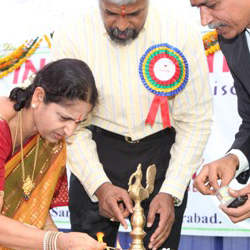 Our Management stands for our cultural values and we at Little Scholar School do try to educate children in this regard. Rules are there, however, children obey them more out of respect than fear. Besides our classrooms and play –field activities, cultural, literary programme widen the mental horizons of our students and our tours, picnics, field trips add to it.
Our children are given regular exposure to healthy competitions with the help of our House systems. All the students are divided into four Houses and for the glory of their own House, they fight like hungry hounds, but off the field they are, as usual, great pals indeed. Thus, active participation is the essence of our system and all other things are secondary.
You must have heard about Smt. Jupally Balamma Memorial Youth Festival, haven't you? It is the Youth Festival organised in the name of the mother of our Chairman; Dr. Rameswar Rao J. The entire school gets a festive look with students from nearby schools gather enthusiastically to participate in sports, cultural and literary competitions conducted by our school. The two-day festival will leave happy memories in the young minds as they look forward to the next festival to come.