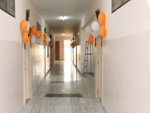 Little Scholar School was established in 1991 by My Home Educational Society which is a part of My Home Group of Companies headed by Dr. Rameswar Rao J. It is a sincere and honest attempt on the part of the Management to serve the cause of education. Seeking admission and getting quality education was brought into the reach of the common man.
Our school, a co-education and English medium school, is affiliated to Central Board of Secondary Education, New Delhi. We have classes from Nursery to X. and children are usually admitted in Pre-primary classes, however, no deserving candidate is denied admission at any time, if vacancies exist. Personal attention is the hallmark of the system which has so far brought many laurels to the school and we are sure that many more will follow.
On our campus at Begumpet, homely atmosphere would prevails. Any child, even the new-comer, will soon feel at home with the surroundings and the people. During our stay at Begumpet, from 1991 to 2010, our staff and students have kept the flag of Little Scholar School flying high. No wonder Little Scholar School has become one of the few well-known CBSE schools of the Twin Cities.
All said and done, our school at Begumpet was in a rented accommodation and we have unwillingly left it to establish our own campus at Sanath nagar. But for My Home Educational Society we wouldn't have realized our dream of having our own school campus, that too, in the heart of the city. In a record time the Management not only acquired the land but completed the construction of the building. What a beautiful sight it is to look at the colorful and huge building our dream project it stands 'tall' as a land mark of Sanath nagar.You will not miss seeing spacious and brightly ventilated rooms, colorful corridors, fine flouring etc.
Academic excellence is our focus. For that purpose well-qualified and experienced staff are appointed. Their skills and talents are further strengthened with the help of work shops, in-service programme. The preparation that a child goes through will see him to come out with flying colours and also stand him in good stead while dealing with the issues of life successfully.
Physical and mental health is an equally important aspect of life and our school knows it very well. All arrangements are made and all opportunities are given to students to be hale and healthy. Besides games and sports, Yoga and Meditation will keep the students happy and confident. One visit to our school will make you reiterate the same view.
Discipline is the back bone of any institution, more so for a school. Students at Little Scholar School are trained to be self- disciplined, because that's a way of life with them.